Allcargo Logistics jumps 8% on acquisition
By IRIS
Published: 27th September 2013 02:18 PM
Last Updated: 27th September 2013 02:18 PM
Allcargo Logistics, an integrated logistics solutions company, climbed on Friday after it acquired 100% interest in Econocaribe Consolidators, a US based logistics company, through its wholly owned subsidiary, Ecu Line.
This acquisition now enables Ecu Line to complete its service offerings, both in terms of global capabilities and coverage. The acquisition also increases Ecu's foot hold in the US market, which will facilitates growth into and out of US market.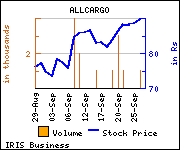 Shares ofthe companyare trading at Rs 96.95, up Rs 7.2, or 8.02% at the Bombay Stock Exchange (BSE) on Friday at 1:43 p.m.The scrip has touched an intra-day high of Rs 101.50 and low of Rs 87.05. The total volume of shares traded at the BSE is 14,622.In the earlier session, the shares rose 1.41%, or Rs 1.25, at Rs 89.75. Currently, the stock is trading down 36.11% from its 52-week high of Rs 151.75 and above 61.58% over the 52-week low of Rs 60.
Share Price Movement Period Pricein Rs Gain/(Loss) in Rs in % 1 Week 98.90 (4.70) (4.75) 1 Month 115.00 (20.80) (18.09) 3 Months 123.65 (29.45) (23.82) 6 Months 126.45 (32.25) (25.50) 1 Year 131.30 (37.10) (28.26) Note: Based on previous day closing price.