Bliss GVS Pharma falls on Ghana FDA ban over fake drug
By IRIS
Published: 08th October 2013 01:18 PM
Last Updated: 08th October 2013 01:18 PM
Bliss GVS Pharma fell on Tuesday after Food and Drugs Authority (FDA) with immediate effect banned the importation and distribution of all medicinal products manufactured by Bliss GVS Pharma, India into Ghana.
The company manufactured a fake antimalarial medicine (Gsunate Plus Suppositories) which was imported onto the Ghanaian market.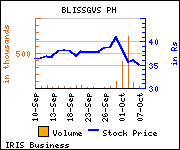 Shares ofthe companyare trading at Rs 34.25, down Rs 0.6, or 1.72% at the Bombay Stock Exchange (BSE) on Tuesday at 12:33 p.m.The scrip has touched an intra-day high of Rs 35 and low of Rs 33.70. The total volume of shares traded at the BSE is 26,442.In the earlier session, the shares lost 3.19%, or Rs 1.15, at Rs 34.85. Currently, the stock is trading down 22.25% from its 52-week high of Rs 44.05 and above 33.27% over the 52-week low of Rs 25.70.
Share Price Movement Period Pricein Rs Gain/(Loss) in Rs in % 1 Week 31.45 (0.40) (1.27) 1 Month 30.50 0.55 1.80 3 Months 28.00 3.05 10.89 6 Months 38.00 (6.95) (18.29) 1 Year 21.90 9.15 41.78 Note: Based on previous day closing price.