Crompton Greaves moves up on Power Grid order
By IRIS
Published: 11th April 2014 11:19 AM
Last Updated: 11th April 2014 11:19 AM
Avantha Group Company Crompton Greaves' (CG) shares rose on Friday after the Automation Business Unit of the company has bagged a deal from Power Grid Corporation of India (PGCIL) to supply six Substation Automation Systems (SAS) in Jharkhand, India.
The SAS, which will be jointly managed with CG's Engineering Projects Division, India, is intended to help monitor and improve PGCIL's transmission capacity across the state.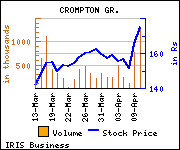 The deal involves supplying six 220/132/33 kV ZIV 61850 SAS to Govindpur, Manoharpur, Jaduguda, Dalbhumgarh, Jamtara, and Rourkela in Jharkhand, India.
The order includes the manufacture and supply of ZIV protection and control relays, automation systems and engineering services. CG intelligent substation automation solutions are a key element to develop a safer and more efficient network.
Shares ofthe companyare trading at Rs 176.10, up Rs 1, or 0.57% at the Bombay Stock Exchange (BSE) on Friday at 10:45 a.m. The scrip has touched an intra-day high of Rs 177.60 and low of Rs 172.15. The total volume of shares traded at the BSE is 715,999.In the earlier session, the shares rose 6.15%, or Rs 10.15, at Rs 175.10. Currently, the stock is trading down 1.7% from its 52-week high of Rs 179.15 and above 145.61% over the 52-week low of Rs 71.70.
Disclaimer: We respect your thoughts and views! But we need to be judicious while moderating your comments. All the comments will be moderated by the NIE editorial. Abstain from posting comments that are obscene, defamatory or inflammatory, and do not indulge in personal attacks. Try to avoid outside hyperlinks inside the comment. Help us delete comments that do not follow these guidelines.
---
---
---