Empee Distilleries jumps 10% on tie up with United Spirits
By IRIS
Published: 27th August 2013 02:18 PM
Last Updated: 27th August 2013 02:18 PM
Chennai based Empee Distilleries jumped on Tuesday after it entered into an agreement with Bangalore based United Spirits for manufacture of Indian Made Foreign Liquor (IMFL) for distribution in Karnataka.
The manufacturing will be undertaken at its unit in Arabhikothanur Village, Kolar district, Karnataka. The agreement entered with United Spirits will initially be for a period of three years.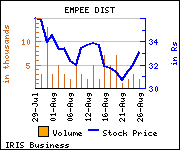 Shares ofthe companyare trading at Rs 36.35, up Rs 3.3, or 9.98% at the Bombay Stock Exchange (BSE) on Tuesday at 12:55 p.m.The scrip has touched an intra-day high of Rs 36.35 and low of Rs 31.35. The total volume of shares traded at the BSE is 14,671.In the earlier session, the shares gained 3.44%, or Rs 1.1, at Rs 33.05. Currently, the stock is trading down 62.23% from its 52-week high of Rs 96.25 and above 21.98% over the 52-week low of Rs 29.80.
Share Price Movement Period Pricein Rs Gain/(Loss) in Rs in % 1 Week 62.10 0.15 0.24 1 Month 63.00 (0.75) (1.19) 3 Months 45.65 16.60 36.36 6 Months 69.90 (7.65) (10.94) 1 Year 62.40 (0.15) (0.24) Note: Based on previous day closing price.