Gillette jumps as SEBI allow domestic promoter to reclassify as public shareholders
By IRIS
Published: 26th September 2013 12:18 PM
Last Updated: 26th September 2013 12:18 PM
Gillette India's shares jumped on Thursday after Securities and Exchange Board of India (SEBI) allowed the company's domestic promoter the Poddar group to be reclassified as public shareholders but with several conditions. As a part of it, Poddar group will have to give up allrights in the management of the company.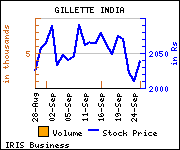 Shares ofthe companyare trading at Rs 2,255, up Rs 216.3, or 10.61% at the Bombay Stock Exchange (BSE) on Thursday at 11:13 a.m.The scrip has touched an intra-day high of Rs 2,325 and low of Rs 2,047. The total volume of shares traded at the BSE is 9,982.In the earlier session, the shares climbed 1.43%, or Rs 28.7, at Rs 2,038.70. Currently, the stock is trading down 13.27% from its 52-week high of Rs 2,600 and above 15.58% over the 52-week low of Rs 1,951.10.
Share Price Movement Period Pricein Rs Gain/(Loss) in Rs in % 1 Week 2,220.55 (91.05) (4.10) 1 Month 2,154.90 (25.40) (1.18) 3 Months 2,017.95 111.55 5.53 6 Months 2,458.75 (329.25) (13.39) 1 Year 2,321.15 (191.65) (8.26) Note: Based on previous day closing price.