Gulf Oil gains after divesting stake in subsidiaries
By IRIS
Published: 01st October 2013 02:18 PM
Last Updated: 01st October 2013 02:18 PM
Gulf Oil Corporation, a Hinduja Group Company, gained on Tuesday after its board approved the divestment inthree subsidiaries namely Gulf Oil Yantai (51% holding), Gulf Oil Indonesia (75% holding) and Gulf Oil Bangladesh (51% holding).
The board was advised by a reputed valuer on the valuation of the three subsidiaries and accordingly the decision has been taken by the board to divests the holdings in the three subsidiaries for an overall amount of around Rs 549 million (cost of investment Rs 291 million).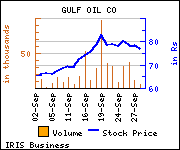 Shares ofthe companyare trading at Rs 78.10, up Rs 1.45, or 1.89% at the Bombay Stock Exchange (BSE) on Tuesday at 10:09 a.m.The scrip has touched an intra-day high of Rs 78.60 and low of Rs 76.50. The total volume of shares traded at the BSE is 9,825.In the earlier session, the shares fell 2.29%, or Rs 1.8, at Rs 76.65. Currently, the stock is trading down 24.54% from its 52-week high of Rs 103.50 and above 38.84% over the 52-week low of Rs 56.25.
Share Price Movement Period Pricein Rs Gain/(Loss) in Rs in % 1 Week 61.80 1.25 2.02 1 Month 61.95 1.10 1.78 3 Months 57.05 6.00 10.52 6 Months 85.70 (22.65) (26.43) 1 Year 80.85 (17.80) (22.02) Note: Based on previous day closing price.