HDFC shares tank 10%, wipes out Rs 113.7 bn m-cap
By IRIS
Published: 27th August 2013 03:18 PM
Last Updated: 27th August 2013 03:18 PM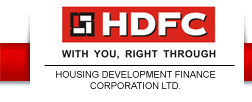 Housing Development Finance Corporation (HDFC), leading housing finance provider company in India, plunged 10% on Tuesday tracking huge selloff in banking and financial space.
Banking stocks tumbled on concern over Rupee depreciation and expected rise in fiscal deficit due tofood security bill. Thiswill likely to complicate monetary policy and may fuel speculation about possible rating downgrade for India.
Rupee slipped to a fresh record low of 66.06 against the US dollar. The food security bill has been approved by Lok Sabha on Monday. It is expected to cost Rs 1.25 trillion in 2013-14.
Shares of HDFC are trading at Rs 671.30, down Rs 72.85, or 9.79% at the Bombay Stock Exchange (BSE) on Tuesday at 2:18 p.m.
With sharp drop in share prices, HDFC has lost Rs 113.7 billion in market capitalisation.The scrip has touched an intra-day high of Rs 741 and low of Rs 668.65. The total volume of shares traded at the BSE is 441,114.In the earlier session, the shares gained 0.49%, or Rs 3.65, at Rs 744.15. Currently, the stock is trading at all time 52-week low, which is below 27.89% over the 52-week high of Rs 931.
Share Price Movement Period Pricein Rs Gain/(Loss) in Rs in % 1 Week 812.80 29.90 3.68 1 Month 902.20 (59.50) (6.59) 3 Months 796.00 46.70 5.87 6 Months 828.35 14.35 1.73 1 Year 642.45 200.25 31.17 Note: Based on previous day closing price.