Kalpataru Power jumps on new orders
By IRIS
Published: 10th October 2013 04:18 PM
Last Updated: 10th October 2013 04:18 PM
Kalpataru Power Transmission (KPTL) shares rallied on Thursday after the company secured new orders worth Rs 6.20 billion.
The first order worth Rs 4.63 billion is received for supply and installation of 171 kms, 400 KV D/C transmission line from Tamil Nadu Transmission Corporation.
In addition, another order worth Rs 940 million has been received from HPCL for installation of 160 Kms cross-country LPG pipeline.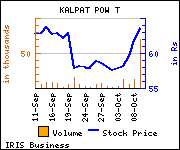 Shares of Kalpataru Power Transmission settled at Rs 66.45, up Rs 2.9, or 4.56% at the Bombay Stock Exchange (BSE) on Thursday. The scrip has touched an intra-day high of Rs 68.30 and low of Rs 63.20. The total volume of shares traded at the BSE is 84,240.In the earlier session, the shares gained 2.83%, or Rs 1.75, at Rs 63.55.Currently, the stock is trading down 36.95% from its 52-week high of Rs 105.40 and above 18.66% over the 52-week low of Rs 56.
Share Price Movement Period Pricein Rs Gain/(Loss) in Rs in % 1 Week 69.45 (0.60) (0.86) 1 Month 76.05 (7.20) (9.47) 3 Months 79.00 (10.15) (12.85) 6 Months 88.55 (19.70) (22.25) 1 Year 79.65 (10.80) (13.56) Note: Based on previous day closing price.