Kinetic Engg extends gains after stake sale in MTWL
By IRIS
Published: 26th February 2014 05:19 PM
Last Updated: 26th February 2014 05:19 PM
Kinetic Engineering (KEL), the flagship company of Firodia Group of companies, extended gain on Wednesday after it sold its entire shareholding in Mahindra Two Wheelers (MTWL) to Samena Capital, a private equity investment group focused on Asia and Middle East.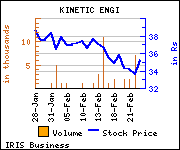 The stake sale will fetch approximately Rs 1,821 million to KEL, and after certain committed payments towards NCD repayments and cost of financing etc, KEL expects to receive net proceeds of around Rs 1,098 million.Shares ofthe companyare trading at Rs 36.95, up Rs 1.75, or 4.97% at the Bombay Stock Exchange (BSE) on Wednesday at 12:34 p.m.The scrip has touched an intra-day high of Rs 36.95 and low of Rs 36.95. The total volume of shares traded at the BSE is 949.In the earlier session, the shares rose 4.92%, or Rs 1.65, at Rs 35.20. Currently, the stock is trading down 64.13% from its 52-week high of Rs 103 and above 10.3% over the 52-week low of Rs 33.50.
Disclaimer: We respect your thoughts and views! But we need to be judicious while moderating your comments. All the comments will be moderated by the NIE editorial. Abstain from posting comments that are obscene, defamatory or inflammatory, and do not indulge in personal attacks. Try to avoid outside hyperlinks inside the comment. Help us delete comments that do not follow these guidelines.
---
---
---