Motherson Sumi climbs on bonus issue plan
By IRIS
Published: 21st October 2013 01:18 PM
Last Updated: 21st October 2013 01:18 PM
Motherson Sumi Systems, flagship company of the Samvardhana Motherson Group, climbed on Monday after the company said that its board of directors will meet on Nov. 01, 2013 to consider bonus issue to existing shareholders.
The board also considers unaudited financial results for the quarter ended Sept. 30, 2013 (Q2).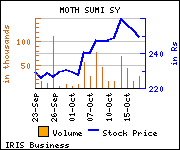 Shares ofthe companyare trading at Rs 257.30, up Rs 8, or 3.21% at the Bombay Stock Exchange (BSE) on Monday at 12:10 p.m.The scrip has touched an intra-day high of Rs 262 and low of Rs 249.30. The total volume of shares traded at the BSE is 130,553.In the earlier session, the shares declined 1.54%, or Rs 3.9, at Rs 249.30. Currently, the stock is trading down 3.63% from its 52-week high of Rs 267 and above 72.05% over the 52-week low of Rs 149.55.