Petron Engineering jumps on new contract
By IRIS
Published: 26th September 2013 01:18 PM
Last Updated: 26th September 2013 01:18 PM
Petron Engineering Construction, engaged in providing total solutions in engineering construction, climbed on Thursday after it received contract from Bharat Petroleum Corporation (BPCL), Ernakulam, Kerala worth Rs 550 million.
The company has received this contract for heater package for VGO-HDT unit for integrated refinery expansion project of its Kochi refinery.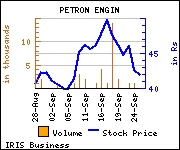 Shares ofthe companyare trading at Rs 43.60, up Rs 1.7, or 4.06% at the Bombay Stock Exchange (BSE) on Thursday at 12:39 p.m.The scrip has touched an intra-day high of Rs 45 and low of Rs 43.60. The total volume of shares traded at the BSE is 3,369.In the earlier session, the shares fell 1.53%, or Rs 0.65, at Rs 41.90. Currently, the stock is trading down 75.44% from its 52-week high of Rs 177.50 and above 31.52% over the 52-week low of Rs 33.15.
Share Price Movement Period Pricein Rs Gain/(Loss) in Rs in % 1 Week 70.05 (3.55) (5.07) 1 Month 81.75 (15.25) (18.65) 3 Months 73.15 (6.65) (9.09) 6 Months 133.05 (66.55) (50.02) 1 Year 187.80 (121.30) (64.59) Note: Based on previous day closing price.