RInfra jumps as MERC allows to recover arrears
By IRIS
Published: 23rd August 2013 05:18 PM
Last Updated: 23rd August 2013 05:18 PM
Reliance Infrastructure (RInfra) jumped after the Maharashtra Electricity Regulatory Commission (MERC) allowedthe companyto recover past arrears, along with 14.5% per annum carrying cost, at Rs 9.25 billion per year, aggregating to Rs 55.5 billion over the next 6 years.
The MERC has also allowed RInfra to recover revised Cross Subsidy Surcharge (CSS) of Rs 8.19 billion for the current FY 2013-14, Rs 8.96 billion for FY 2014-15 and Rs 5.9 billion for FY 2015-16.
According to the MERC order, revised tariff, the arrears recovery and revised CSS will become effective from Sept. 1, 2013.
RInfra's tariffs are most competitive across all major categories, and this will ensure major inflow of high-end consumers back to RInfra.
''Notwithstanding the above, RInfra's tariffs are expected to reduce by 12% and 11% in the next two financial years, benefitting its valued customers significantly, mainly owing to efficient and low power procurement cost by RInfra,'' it said.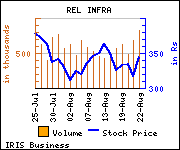 Shares of Reliance Infrastructure settled at Rs 357.10, up Rs 12.9, or 3.75% at the Bombay Stock Exchange (BSE) on Friday.The scrip has touched an intra-day high of Rs 361.15 and low of Rs 339.65. The total volume of shares traded at the BSE was 1,326,007.In the earlier session, the shares gained 8.58%, or Rs 27.2, at Rs 344.20.Currently, the stock is trading down 37.61% from its 52-week high of Rs 572.35 and above 15.94% over the 52-week low of Rs 308.00. Share Price Movement Period Pricein Rs Gain/(Loss) in Rs in % 1 Week 357.35 (25.30) (7.08) 1 Month 367.90 (35.85) (9.74) 3 Months 342.85 (10.80) (3.15) 6 Months 515.80 (183.75) (35.62) 1 Year 537.40 (205.35) (38.21) Note: Based on previous day closing price.