Ranbaxy gains 3% on value buying
By IRIS
Published: 17th September 2013 05:18 PM
Last Updated: 17th September 2013 05:18 PM

Ranbaxy Laboratories, one of the leading pharma players, recovered on value buying on Tuesday after a sharp fall in previous session. Earlier on Monday,shares of the company plunged 30% after the US Food and Drug Administration (USFDA) issued import alert on the company's Mohali unit.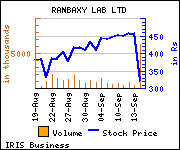 Shares of the company settled at Rs 328.75, up Rs 9.9, or 3.10% at the Bombay Stock Exchange (BSE) on Tuesday.The scrip has touched an intra-day high of Rs 338.90 and low of Rs 320. The total volume of shares traded at the BSE is 2,536,081.In the earlier session, the shares declined 30.27%, or Rs 138.4, at Rs 318.85.Currently, the stock is trading down 41.27% from its 52-week high of Rs 559.80 and above 29.45% over the 52-week low of Rs 253.95.
Share Price Movement Period Pricein Rs Gain/(Loss) in Rs in % 1 Week 378.15 (28.70) (7.59) 1 Month 393.15 (43.70) (11.12) 3 Months 431.80 (82.35) (19.07) 6 Months 504.00 (154.55) (30.66) 1 Year 488.55 (139.10) (28.47) Note: Based on previous day closing price.