Ranbaxy share price plunge wipes out Rs 6.5 bn in m-cap
By IRIS
Published: 20th September 2013 01:18 PM
Last Updated: 20th September 2013 01:18 PM

Ranbaxy Laboratories, one of the leading pharma players, dropped on Friday after its US-based Ohm Laboratories, the facility making medicines for the American market,comeunder surveillance of the US Food and Drug Administration (FDA).
Ohm Laboratories was inspected by FDA towards the end of 2012. After this, a 'Form 483' was issued to the company - this is done to notify of conditions which seem to breach the US Food, Drug and Cosmetic (FD&C) Act and related laws.
Ranbaxy Laboratories lost Rs 6.45 billion in market capitalisation to Rs 141.84 billion.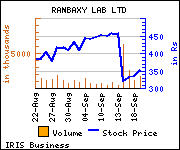 Shares ofthe companyare trading at Rs 335.25, down Rs 15.25, or 4.35% at the Bombay Stock Exchange (BSE) on Friday at 12:00 p.m.The scrip has touched an intra-day high of Rs 340.95 and low of Rs 302. The total volume of shares traded at the BSE is 1,202,806.In the earlier session, the shares rose 4.86%, or Rs 16.25, at Rs 350.50. Currently, the stock is trading down 40.11% from its 52-week high of Rs 559.80 and above 32.01% over the 52-week low of Rs 253.95.
Share Price Movement Period Pricein Rs Gain/(Loss) in Rs in % 1 Week 378.15 (28.70) (7.59) 1 Month 393.15 (43.70) (11.12) 3 Months 431.80 (82.35) (19.07) 6 Months 504.00 (154.55) (30.66) 1 Year 488.55 (139.10) (28.47) Note: Based on previous day closing price.