SAIL climbs as August sales grow 16%
By IRIS
Published: 03rd September 2013 01:18 PM
Last Updated: 03rd September 2013 01:18 PM
Steel Authority of India (SAIL), leading state-run steel maker, climbed on Tuesday after reporting better-than-expected sales for the month of August.
SAIL registered a 16% growth in sales during the month of August 2013 by selling 1.08 million tons of steel products as compared to 9.38 lakh tons in corresponding period last year (CPLY).
The rise in sales was mainly on account of increase in flat product sales, which went up by 26%. While long products saw a growth of 3%, retail sales at 53,800 tons in the month were up by 62% on a month-to-month basis.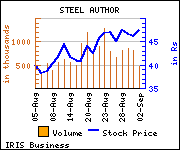 Shares ofthe companyare trading at Rs 48.05, up Rs 0.7, or 1.48% at the Bombay Stock Exchange (BSE) on Tuesday at 12:04 p.m.The scrip has touched an intra-day high of Rs 49.20 and low of Rs 47.55. The total volume of shares traded at the BSE is 544,999.In the earlier session, the shares climbed 2.71%, or Rs 1.25, at Rs 47.35. Currently, the stock is trading down 52.71% from its 52-week high of Rs 101.60 and above 27.62% over the 52-week low of Rs 37.65.
Share Price Movement Period Pricein Rs Gain/(Loss) in Rs in % 1 Week 54.10 (1.75) (3.23) 1 Month 59.05 (6.70) (11.35) 3 Months 63.40 (11.05) (17.43) 6 Months 89.05 (36.70) (41.21) 1 Year 90.00 (37.65) (41.83) Note: Based on previous day closing price.