Sesa Goa leads metal pack, jumps over 7%
By IRIS
Published: 03rd October 2013 04:18 PM
Last Updated: 03rd October 2013 04:18 PM
Sesa Goa, one of the largest producers and exporters of iron ore in India,led the rally in the metal stockson Thursday with heavy volumes. BSE Metal was top gainer in sectoral indices with 4% rally today.
Shares ofthe companysettled at Rs 188.10, up Rs 12.65, or 7.21% at the Bombay Stock Exchange (BSE).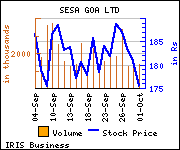 The company's total volume of shares traded on the bourses today was higher by 947.44% to 15,340,725 compared with 22-day average volume of 1,464,588.The scrip has touched an intra-day high of Rs 190.70 and low of Rs 177. The total volume of shares traded at the BSE is 2,140,161.In the earlier session, the shares fell 2.91%, or Rs 5.25, at Rs 175.45. Currently, the stock is trading down 8.42% from its 52-week high of Rs 205.40 and above 57.47% over the 52-week low of Rs 119.45.
Share Price Movement Period Pricein Rs Gain/(Loss) in Rs in % 1 Week 142.10 (3.70) (2.60) 1 Month 156.90 (18.50) (11.79) 3 Months 153.90 (15.50) (10.07) 6 Months 192.25 (53.85) (28.01) 1 Year 185.90 (47.50) (25.55) Note: Based on previous day closing price.