Sesa Goa share price rally lifts market value by Rs 12.5 bn
By IRIS
Published: 26th August 2013 05:18 PM
Last Updated: 26th August 2013 05:18 PM
Sesa Goa, one of the largest producers and exporters of iron ore in India, jumped 9.4% on Monday ahead of delisting of Sterlite Industries and merger withthe companywith effect from Tuesday.
Sterlite Industries and Sesa Goa announced a merger on August 17 and the record date for determining the shareholders of former to whom the equity shares of Sesa Goa will be allotted as per terms of the scheme is fixed as August 28.
The share price rally raised Sesa Goa's market capitalisation by Rs 12.47 billion to stand at Rs 145.36 billion.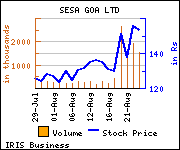 Shares ofthe companyare trading at Rs 167.25, up Rs 14.35, or 9.39% at the Bombay Stock Exchange (BSE) on Monday at 3:59 p.m.The scrip has touched an intra-day high of Rs 170 and low of Rs 153.50. The total volume of shares traded at the BSE is 3,740,918.In the earlier session, the shares declined 1.64%, or Rs 2.55, at Rs 152.90. Currently, the stock is trading down 18.57% from its 52-week high of Rs 205.40 and above 40.02% over the 52-week low of Rs 119.45.
Share Price Movement Period Pricein Rs Gain/(Loss) in Rs in % 1 Week 142.10 (3.70) (2.60) 1 Month 156.90 (18.50) (11.79) 3 Months 153.90 (15.50) (10.07) 6 Months 192.25 (53.85) (28.01) 1 Year 185.90 (47.50) (25.55) Note: Based on previous day closing price.