Shasun Pharma jumps on successful MHRA EU inspection
By IRIS
Published: 30th August 2013 12:18 PM
Last Updated: 30th August 2013 12:18 PM
Shasun Pharmaceuticals rallied on Friday after the company said it has successfully completed MHRA inspection during the third week of August 2013. The main focus of the inspection was to conduct cGMP audit for the formulation facility.
On completion of inspection, the MHRA authorities concluded that, the facility, system and practices comply with MHRA requirements, the company said.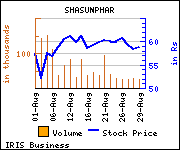 Shares ofthe companyare trading at Rs 62.45, up Rs 3.75, or 6.39% at the Bombay Stock Exchange (BSE) on Friday at 11:26 a.m.The scrip has touched an intra-day high of Rs 64.40 and low of Rs 59.05. The total volume of shares traded at the BSE is 88,064.In the earlier session, the shares gained 0.77%, or Rs 0.45, at Rs 58.70. Currently, the stock is trading down 66.41% from its 52-week high of Rs 185.90 and above 36.95% over the 52-week low of Rs 45.60.
Share Price Movement Period Pricein Rs Gain/(Loss) in Rs in % 1 Week 64.40 (9.60) (14.91) 1 Month 75.05 (20.25) (26.98) 3 Months 63.75 (8.95) (14.04) 6 Months 143.50 (88.70) (61.81) 1 Year 116.20 (61.40) (52.84) Note: Based on previous day closing price.