Shyam Telecom gains another 20%
By IRIS
Published: 07th October 2013 01:18 PM
Last Updated: 07th October 2013 01:18 PM
Shyam Telecom extended rally on Monday after Sistema Shyam TeleServices (SSTL), a venture of Sistema JSFC of Russia and Shyam Group of India, received unified telecom license.
The unified license will enable to provide technology neutral telecom services for a period of 20 years.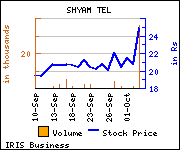 Shares ofthe companyare trading at Rs 29.85, up Rs 4.95, or 19.88% at the Bombay Stock Exchange (BSE) on Monday at 12:11 p.m.
In the earlier session, the shares climbed 20%, or Rs 4.15, at Rs 24.90.The scrip has touched an intra-day high of Rs 29.85 and low of Rs 25.50. The total volume of shares traded at the BSE is 103,162.Currently, the stock is trading down 3.71% from its 52-week high of Rs 31 and above 95.1% over the 52-week low of Rs 15.30.
Share Price Movement Period Pricein Rs Gain/(Loss) in Rs in % 1 Week 19.40 (0.80) (4.12) 1 Month 21.10 (2.50) (11.85) 3 Months 20.65 (2.05) (9.93) 6 Months 25.90 (7.30) (28.19) 1 Year 23.60 (5.00) (21.19) Note: Based on previous day closing price.