Strides Arcolab jumps on FIPB nod for Mylan deal
By IRIS
Published: 28th August 2013 02:18 PM
Last Updated: 28th August 2013 02:18 PM
Strides Arcolab, a pharmaceutical company manufacturing IP-led niche products, climbed on Wednesday after media reports said that the Foreign Investment Promotion Board (FIPB) has cleared the long-pending USD 1.8-billion investment proposal by US generic drug maker Mylan Inc, to acquire Agila Specialities, an injectible unit of Strides Arcolab.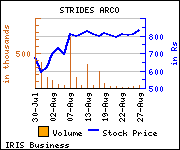 Shares ofthe companyare trading at Rs 873.40, up Rs 43.25, or 5.21% at the Bombay Stock Exchange (BSE) on Wednesday at 12:17 p.m.The scrip has touched an intra-day high of Rs 890 and low of Rs 835. The total volume of shares traded at the BSE is 94,229.In the earlier session, the shares climbed 2.8%, or Rs 22.65, at Rs 830.15. Currently, the stock is trading down 28.7% from its 52-week high of Rs 1,224.90 and above 58.04% over the 52-week low of Rs 552.65.
Share Price Movement Period Pricein Rs Gain/(Loss) in Rs in % 1 Week 863.90 4.60 0.53 1 Month 885.65 (17.15) (1.94) 3 Months 860.70 7.80 0.91 6 Months 1,159.15 (290.65) (25.07) 1 Year 748.65 119.85 16.01 Note: Based on previous day closing price.