Suzlon Energy surges on new order
By IRIS
Published: 14th October 2013 01:18 PM
Last Updated: 14th October 2013 01:18 PM
Suzlon Energy, the world's fifth largest wind turbine supplier, surged on Monday after it bagged a contract in Uruguay with a 65 MW project.
The project, located in the southern department of Colonia in Uruguay, is developed by Rouar SA, a unique joint venture between UTE - Uruguay's state-owned utility, and Brazilian utility Eletrobras - the largest in Latin America.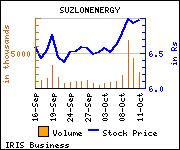 Shares ofthe companyare trading at Rs 7.19, up Rs 0.22, or 3.16% at the Bombay Stock Exchange (BSE) on Monday at 12:39 p.m.The scrip has touched an intra-day high of Rs 7.29 and low of Rs 7. The total volume of shares traded at the BSE is 1,444,606.In the earlier session, the shares climbed 0.58%, or Rs 0.04, at Rs 6.97. Currently, the stock is trading down 73.27% from its 52-week high of Rs 26.90 and above 25.7% over the 52-week low of Rs 5.72.
Share Price Movement Period Pricein Rs Gain/(Loss) in Rs in % 1 Week 9.65 (0.29) (3.01) 1 Month 13.37 (4.01) (29.99) 3 Months 13.35 (3.99) (29.89) 6 Months 17.90 (8.54) (47.71) 1 Year 17.35 (7.99) (46.05) Note: Based on previous day closing price.