T&R surges after commissioning of 3 units in Andhra Pradesh
By IRIS
Published: 13th March 2014 02:19 PM
Last Updated: 13th March 2014 02:19 PM
Transformers and Rectifiers (India), leading transformer manufacturing companies in India, surged on Thursday after it said that first 3 units forming a bank of 1,500 MVA, 765 kV transformers manufactured by T&R have been commissioned at Nellore substation of Powergrid located in Andhra Pradesh, India.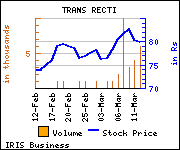 The company is geared up with all the required facilities to manufacture 765 kV transformers and is ready to cope up with huge demand of 765 kV transformers and 765 kV shunt reactors in 12th and 13th, 5 year plans.Shares ofthe companyare trading at Rs 83.15, up Rs 3.25, or 4.07% at the Bombay Stock Exchange (BSE) on Thursday at 1:17 p.m.The scrip has touched an intra-day high of Rs 84.55 and low of Rs 78.25. The total volume of shares traded at the BSE is 2,819.In the earlier session, the shares fell 0.37%, or Rs 0.3, at Rs 79.90. Currently, the stock is trading down 30.22% from its 52-week high of Rs 119.16 and above 52.85% over the 52-week low of Rs 54.40.
Disclaimer: We respect your thoughts and views! But we need to be judicious while moderating your comments. All the comments will be moderated by the NIE editorial. Abstain from posting comments that are obscene, defamatory or inflammatory, and do not indulge in personal attacks. Try to avoid outside hyperlinks inside the comment. Help us delete comments that do not follow these guidelines.
---
---
---