Unichem Lab falls on weak Q1 earnings
By IRIS
Published: 14th July 2014 11:19 AM
Last Updated: 14th July 2014 11:19 AM

Unichem Laboratories shares fell on Monday after the company declared a sharp drop in standalone net profit for the quarter ended June 2014. During the quarter, the profit of the company declined 16.34% to Rs 302 million from Rs 361 million in the same quarter last year.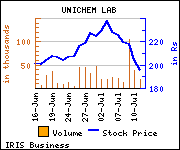 Net sales for the quarter rose 9.56% to Rs 2,910 million, compared with Rs 2,656 million for the prior year period.
Shares of the company are trading at Rs 189.40, down Rs 6.2, or 3.17% at the Bombay Stock Exchange (BSE) on Monday at 10:38 a.m.The scrip has touched an intra-day high of Rs 196 and low of Rs 187. The total volume of shares traded at the BSE is 6,760.
Disclaimer: We respect your thoughts and views! But we need to be judicious while moderating your comments. All the comments will be moderated by the NIE editorial. Abstain from posting comments that are obscene, defamatory or inflammatory, and do not indulge in personal attacks. Try to avoid outside hyperlinks inside the comment. Help us delete comments that do not follow these guidelines.
---
---