YES Bank jumps over 20% on possible roll back of some FX steps
By IRIS
Published: 19th September 2013 02:18 PM
Last Updated: 19th September 2013 02:18 PM

Yes Bank, one of the leading private sector banks, jumped on Thursday as expectations of roll back of some liquidity tightening measures by the central bank.In July, RBI announced liquidity tightening measures to arrest steep fall in rupee. Rupee has moved up sharply after yesterday's US Federal Reserve decision not to reduce bond buying program. Earlier announcement of financial reforms by new RBI Governor Raghuram Rajan on September 4 also supported rupee in recent past. Now since there has been recovery in the rupee, the market participants are hoping the RBI may ease some of the liquidity tightening measures in mid-quarter monetary policy review on Friday. Yes Bank, which corrected sharply following announcement of these measures in July, witnessed a strong come back.It hasadded Rs 26.57 billion in market capitalisation to Rs 140.11 billion.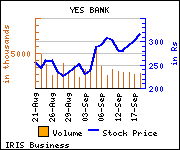 Shares ofthe bankare trading at Rs 389.50, up Rs 73.85, or 23.40% at the Bombay Stock Exchange (BSE) on Thursday at 1:26 p.m.The scrip has touched an intra-day high of Rs 392 and low of Rs 347.20. The total volume of shares traded at the BSE is 4,422,194.In the earlier session, the shares rose 4.94%, or Rs 14.85, at Rs 315.65. Currently, the stock is trading down 28.81% from its 52-week high of Rs 547.15 and above 80.24% over the 52-week low of Rs 216.10.
Share Price Movement Period Pricein Rs Gain/(Loss) in Rs in % 1 Week 478.45 (25.35) (5.30) 1 Month 497.10 (44.00) (8.85) 3 Months 439.75 13.35 3.04 6 Months 461.95 (8.85) (1.92) 1 Year 340.90 112.20 32.91 Note: Based on previous day closing price.