Suzlon gains on new contract
By IRIS
Published: 21st September 2012 11:18 AM
Last Updated: 21st September 2012 11:18 AM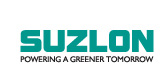 Suzlon Energy gained on Friday after Suzlon Group-subsidiary REpower Systems SE and WSB Neue Energien GmbH signed a contract for the delivery and construction of 22 REpower MM92 wind turbines.
The turbines, each with a rated power of 2.05 megawatts (MW), are intended for the Taczalin project near Legnica in the Polish province of Lower Silesia. Construction and commissioning of the wind farm, which will have a total power output of 45.1 MW, are scheduled for completion in August 2013.Shares ofthe companyare trading at Rs 16.88, up Rs 0.37, or 2.24% at the Bombay Stock Exchange (BSE) on Friday at 11:03 a.m.The scrip has touched an intra-day high of Rs 16.95 and low of Rs 16.40. The total volume of shares traded at the BSE is 847,531.In the earlier session, the shares declined 3.73%, or Rs 0.64, at Rs 16.51. Currently, the stock is trading down 59.18% from its 52-week high of Rs 41.35 and above 14.44% over the 52-week low of Rs 14.75.
Share Price Movement Period Pricein Rs Gain/(Loss) in Rs in % 1 Week 16.11 0.40 2.48 1 Month 16.55 (0.04) (0.24) 3 Months 17.35 (0.84) (4.84) 6 Months 28.00 (11.49) (41.04) 1 Year 38.05 (21.54) (56.61) Note: Based on previous day closing price.