Crompton Greaves drops 6% after reporting loss in Q3
By IRIS
Published: 30th January 2013 10:18 AM
Last Updated: 30th January 2013 10:18 AM
Crompton Greaves (CGL), leading engineering corporations, dropped on Wednesday after reporting consolidated net loss of Rs 1.89 billion for the quarter ended Dec. 31, 2012 as compared to net profit to Rs 771.4 million in the same period last year.
This was due to steep increase in operating cost, which resulted into operating loss. In additional, exceptional loss of Rs 1.21 billion weighed on the bottom line.Total consolidated income has decreased by 1.35% to Rs 30.02 billion for the quarter ended Dec. 31, 2012 from Rs 30.43 billion in the year ago period.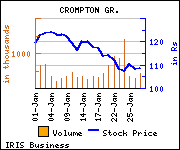 Shares of the companyare trading at Rs 101.90, down Rs 6.7, or 6.17% at the Bombay Stock Exchange (BSE) on Wednesday at 9:38 a.m.The scrip has touched an intra-day high of Rs 104.80 and low of Rs 100. The total volume of shares traded at the BSE is 572,140.In the earlier session, the shares gained 0.6%, or Rs 0.64, at Rs 108.60. Currently, the stock is trading at all time 52-week low, which is below 38.98% over the 52-week high of Rs 167.
Share Price Movement Period Pricein Rs Gain/(Loss) in Rs in % 1 Week 108.20 0.40 0.37 1 Month 115.90 (7.30) (6.30) 3 Months 124.05 (15.45) (12.45) 6 Months 116.70 (8.10) (6.94) 1 Year 133.20 (24.60) (18.47) Note: Based on previous day closing price.
Disclaimer: We respect your thoughts and views! But we need to be judicious while moderating your comments. All the comments will be moderated by the NIE editorial. Abstain from posting comments that are obscene, defamatory or inflammatory, and do not indulge in personal attacks. Try to avoid outside hyperlinks inside the comment. Help us delete comments that do not follow these guidelines.
---
---