Sensex drops over 100 points in noon trade
By IRIS
Published: 20th February 2014 03:18 PM
Last Updated: 20th February 2014 03:18 PM
Indian equities remained lower in noon trade on Thursday. Banking and metal stocks witnessed a fall.
At 12.27 p.m., the Sensex was trading down 104.88 points or 0.51% at 20,618.09 with 24 components falling. Meanwhile, the Nifty was trading lower by 38.60 points or 0.63% at 6,114.15 with 42 components falling.
Sensex Movers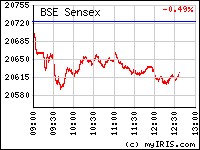 I C I C I Bank contributed fall of 31.37 points in the Sensex. It was followed by H D F C Bank (14.58 points), Infosys (14.5 points), State Bank Of India (11.73 points) and Housing Development Finance Corporation (11.15 points).
However, Tata Consultancy Services contributed rise of 7.63 points in the Sensex. It was followed by Tata Power Company (3.99 points), Jaiprakash Associates (2.97 points), D L F (1.34 points) and Bharat Heavy Electricals (1.01 points).
Biggest gainers in the 30-share index were Tata Power Company (1.99%), Bajaj Auto (1.52%), Dr Reddy'S Laboratories (0.92%), Tata Consultancy Services (0.71%), Bharat Heavy Electricals (0.50%), and NTPC (0.15%).
On the other hand, I C I C I Bank (1.91%), Tata Steel (1.71%), Bharti Airtel (1.70%), State Bank Of India (1.50%), Infosys (1.02%), and H D F C Bank (0.90%) were the major losers in the Sensex.
Mid & Small-cap Space
The BSE Mid and small caps outperformed their larger counterparts declining-0.00% and -0.04% respectively.The major losers in the BSE Midcap were A B G Shipyard (4.94%), CORE Education and Technologies (3.37%), A I A Engineering (1.31%), Aban Offshore (1.19%) and Alstom India (0.55%).The major losers in the BSE Smallcap were A2Z Maintenance & Engineering Services (2.1%), Wagend Infra Venture (1.95%), Ahlcon Parenterals (India) (1.86%), Reliance MediaWorks (0.56%) and Styrolution ABS (India) (0.15%).
Sectors in Limelight
The Bankex index was at 11,925.53, down by 183.86 points or by 1.52%. The major losers were Bank Of Baroda(3.4%), Bank Of India (2.54%), Federal Bank (2.02%), Canara Bank (1.85%) and H D F C Bank (0.9%).
The Metal index was at 8,911.08, down by 74.1 points or by 0.82%. The major losers were Hindalco Industries (0.86%), JSW Steel (0.64%), Bhushan Steel (0.6%), Coal India (0.43%) and Jindal Steel & Power (0.12%).
Market Breadth
Market breadth was negative with 1,003 advances against 1,289 declines.
Value and Volume Toppers
Multi Commodity Exchange of India topped the value chart on the BSE with a turnover of Rs. 345.53 million. It was followed by United Spirits (Rs. 301.17 million), Maruti Suzuki India (Rs. 298.60 million) and Tata Sponge Iron (Rs. 232.72 million).
The volume chart was led by Shree Renuka Sugars with trades of over 1.84 million shares. It was followed by Idea Cellular (1.76 million), Jaiprakash Associates (1.70 million) and Unitech (1.25 million).
Disclaimer: We respect your thoughts and views! But we need to be judicious while moderating your comments. All the comments will be moderated by the NIE editorial. Abstain from posting comments that are obscene, defamatory or inflammatory, and do not indulge in personal attacks. Try to avoid outside hyperlinks inside the comment. Help us delete comments that do not follow these guidelines.
---
---
---