Sensex ends 118 points higher; capital goods, banks rise
By IRIS
Published: 23rd April 2014 04:18 PM
Last Updated: 23rd April 2014 04:18 PM
Indian markets settled on a higher note on Wednesday due to short covering. Capital goods and banking stocks witnessed a rise whereas realty stocks registered a fall.
At the close, the benchmark 30-share index, BSE Sensex gained 118.17 points or 0.52% at 22,876.54 with 17 components posting rise. Meanwhile, the broad based NSE Nifty climbed by 25.45 points or 0.37% at 6,840.80 with 25 components registering rise.
Sensex Movers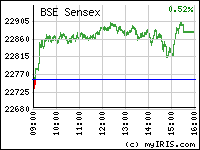 Larsen & Toubro contributed rise of 28.45 points in the Sensex. It was followed by H D F C Bank (19.63 points), I T C (18.57 points), I C I C I Bank (15.8 points) and Infosys (11.45 points).
However, Tata Motors contributed fall of 6.33 points in the Sensex. It was followed by NTPC (6.31 points), D L F (3.89 points), Wipro (3.8 points) and Reliance Industries (3.04 points).
Biggest gainers in the 30-share index were Larsen & Toubro (2.48%), G A I L (India) (1.48%), Bharat Heavy Electricals (1.42%), Tata Steel (1.32%), Mahindra & Mahindra (1.22%), and Bharti Airtel (1.13%).
On the other hand, NTPC (1.49%), Wipro (1.19%), Tata Motors (0.84%), Hero Motocorp (0.72%), Jindal Steel & Power (0.65%), and Tata Consultancy Services (0.24%) were the major losers in the Sensex.
Mid & Small-cap Space
The BSE Mid and small caps underperformed their larger counterparts gaining 0.12% and 0.22% respectively.The major gainers in the BSE Midcap were Allcargo Logistics (3.08%), A B G Shipyard (0.39%), Allahabad Bank (0.26%), Aban Offshore (0.22%) and Alstom India (0.04%).The major gainers in the BSE Smallcap were Advanta (1.96%), Aarti Industries (1.7%), Trident (0.68%), Styrolution ABS (India) (0.58%) and Reliance MediaWorks (0.08%).
Sectors in Limelight
The Capital Goods index was at 12,761.14, up by 187.84 points or by 1.49%. The major gainers were Bharat Heavy Electricals (1.42%), BEML (1.03%), Bharat Electronics (0.46%), A B B India (0.05%) and Alstom India (0.04%).
The Bankex index was at 15,012.05, up by 165.87 points or by 1.12%. The major gainers were Bank Of Baroda(3.21%), Bank Of India (2.49%), Federal Bank (1.82%), H D F C Bank (1.09%) and Canara Bank (0.54%).
On the other hand, the Realty index was at 1,463.29, down by 18.92 points or by 1.28%. The major losers were Phoenix Mills (9.28%), D L F (2.93%), Anant Raj (1.61%), Oberoi Realty (1.21%) and Sobha Developers (0.69%).
Market Breadth
Market breadth was negative with 1,512 advances against 1,385 declines.
Value and Volume Toppers
Just Dial topped the value chart on the BSE with a turnover of Rs. 501.14 million. It was followed by Tata Consultancy Services (Rs. 293.87 million), Ranbaxy Laboratories (Rs. 264.27 million) and I C I C I Bank (Rs. 262.90 million).
The volume chart was led by R E I Agro with trades of over 3.80 million shares. It was followed by L&T Finance Holdings (2.57 million), Mahanagar Telephone Nigam (2.27 million) and I F C I (0.92 million).
Disclaimer: We respect your thoughts and views! But we need to be judicious while moderating your comments. All the comments will be moderated by the NIE editorial. Abstain from posting comments that are obscene, defamatory or inflammatory, and do not indulge in personal attacks. Try to avoid outside hyperlinks inside the comment. Help us delete comments that do not follow these guidelines.
---
---
---