Sensex ends flat; capital goods up, IT down
By IRIS
Published: 10th March 2014 05:18 PM
Last Updated: 10th March 2014 05:18 PM
Indian markets settled on flat note on Monday. Capital goods, realty and banking stocks witnessed a rise whereas IT stocks registered a fall.
At the close, the 30-share benchmark index, BSE Sensex ended flat with a rise of 15.04 points or 0.07% at 21,934.83, 15 components posting rise. Meanwhile, the broad based NSE Nifty went up by 10.60 points or 0.16% at 6,537.25 with 30 components registering rise.
Commenting on the markets, Nidhi Saraswat senior research analyst, Bonanza Portfolio said, '' Nifty opened on a negative note following some profit booking at higher levels, however sustained well above 6,490 support level throughout the trading day. It made intraday high of 6,562, marking yet another all-time high level, and closed above 6500 level for second consecutive trading session. In coming sessions, 6,550 shall be crucial deciding level in near term, and index is likely to witness further buying above this level. Above 6,550, likely target is 6,590-6,650, while below 6,480, likely target is 6,450-6,400.''
Sensex Movers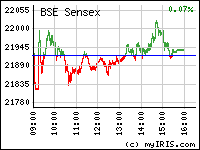 H D F C Bank contributed rise of 55.96 points in the Sensex. It was followed by Larsen & Toubro (36.64 points), Reliance Industries (36.34 points), State Bank Of India (21.48 points) and Mahindra & Mahindra (19.21 points).
However, Tata Consultancy Services contributed fall of 42.23 points in the Sensex. It was followed by Infosys (27.59 points), Tata Motors (23.18 points), I T C (17.8 points) and Sun Pharmaceutical Industries (13.54 points).
Major gainers in the 30-share index were Maruti Suzuki India (3.74%), Mahindra & Mahindra (3.42%), Larsen & Toubro (3.33%), H D F C Bank (3.23%), State Bank Of India (2.58%), and Bajaj Auto (2.53%).
On the other hand, Tata Consultancy Services (3.67%), Tata Motors (3.20%), Sun Pharmaceutical Industries (2.64%), G A I L (India) (2.31%), Coal India (2.25%), and Hindalco Industries (2.21%) were the biggest losers in the Sensex.
Mid & Small-cap Space
The BSE Mid and small caps outperformed their larger counterparts gaining 0.44% and 0.77% respectively. The major gainers in the BSE Midcap were Allcargo Logistics (4.54%), Allahabad Bank (3.59%), Anant Raj (3.24%), Andhra Bank (2.3%) and Amtek Auto (1.55%).The major gainers in the BSE Smallcap were Trident (2.88%), Adhunik Metaliks (2.07%), Action Construction Equipment (1.42%), Aegis Logistics (1.37%) and Aarti Industries (0.98%).
Sectors in Limelight
The Capital Goods index was at 11,532.08, up by 311.29 points or by 2.77%. The major gainers were Alstom T&D India (5.19%), BEML (5.08%), Crompton Greaves (4.99%), Bharat Heavy Electricals (2.29%) and Bharat Electronics (0.45%).
The Realty index was at 1,393.15, up by 33.58 points or by 2.47%. The major gainers were Anant Raj (3.24%), Housing Development and Infrastructure (3.23%), D L F (2.78%), Indiabulls Real Estate (1.01%) and Godrej Properties (0.71%).
The Bankex index was at 13,826.73, up by 259.50 points or by 1.91%. The major gainers were Bank Of India(4.06%), H D F C Bank (3.23%), Federal Bank (1.9%), Canara Bank (0.74%) and Bank Of Baroda (0.51%).
On the other hand, the IT index was at 9,289.87, down by 230.13 points or by 2.42%. The major losers were H C L Technologies (2.81%), Tech Mahindra (1.95%), Infosys (1.82%), Hexaware Technologies (1.53%) and Oracle Financial Services Software (1.31%).
Market Breadth
Market breadth was negative with 1,506 advances against 1,394 declines.
Value and Volume Toppers
Reliance Industries topped the value chart on the BSE with a turnover of Rs. 818.72 million. It was followed by Larsen & Toubro (Rs. 714.53 million), Mahindra Satyam (Rs. 679.50 million) and Yes Bank (Rs. 640.76 million).
The volume chart was led by Birla Power Solutions with trades of over 11.01 million shares. It was followed by Mahindra Satyam (5.89 million), Jaiprakash Associates (5.48 million) and Unitech (4.92 million).
Disclaimer: We respect your thoughts and views! But we need to be judicious while moderating your comments. All the comments will be moderated by the NIE editorial. Abstain from posting comments that are obscene, defamatory or inflammatory, and do not indulge in personal attacks. Try to avoid outside hyperlinks inside the comment. Help us delete comments that do not follow these guidelines.
---
---
---