Sensex extends losses; realty, power, auto fall
By IRIS
Published: 23rd October 2013 03:18 PM
Last Updated: 23rd October 2013 03:18 PM
Indian equities extended losses on Wednesday led by realty, auto and power stocks. At 02:03 p.m., the Sensex was trading down 268.37 points or 1.29% at 20,596.60 with 26 components falling. Meanwhile, the Nifty was trading lower by 65.30 points or 1.05% at 6,137.50 with 46 components falling.
The 30-share benchmark index, BSE Sensex opened flat with a rise of 10.34 points or 0.05% at 20,875.31, while the broad based NSE Nifty started with a rise of 6.75 points or 0.11%, at 6,209.55.
Sensex Movers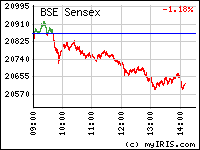 H D F C Bank contributed fall of 35.84 points in the Sensex. It was followed by Reliance Industries (27.25 points), Housing Development Finance Corporation (20.38 points), Oil & Natural Gas Corporation (19.55 points) and Tata Motors (18.78 points).
However, Hindustan Unilever contributed rise of 12.25 points in the Sensex. It was followed by State Bank Of India (6.98 points), Sterlite Industries (India) (0 points), I C I C I Bank (0.98 points) and Maruti Suzuki India (1.97 points).
Major gainers in the 30-share index were G A I L (India) (3.17%), Hindustan Unilever (1.85%), Cipla (1.50%), and State Bank Of India (0.89%).
On the other hand, Wipro (4.51%), Bajaj Auto (3.24%), NTPC (3.17%), Sun Pharmaceutical Industries (2.94%), Tata Motors (2.76%), and Bharat Heavy Electricals (2.65%) were the biggest losers in the Sensex.
Mid & Small-cap Space
The BSE Mid and small caps outperformed their larger counterparts declining-0.50% and -0.53% respectively.The major losers in the BSE Midcap were Allcargo Logistics (2.44%), Alstom India (2.25%), A I A Engineering (2.23%), Aban Offshore (2.03%) and Allahabad Bank (1.26%).The major losers in the BSE Smallcap were Dr Datsons Labs (4.86%), Action Construction Equipment (3.98%), A2Z Maintenance & Engineering Services (1.92%), Aarti Industries (1.43%) and Trident (0.95%).
Sectors in Limelight
The Realty index was at 1,350.68, down by 39.63 points or by 2.85%. The major losers were D L F (5.24%), Indiabulls Real Estate (5.18%), Anant Raj (5.05%), Housing Development and Infrastructure (3.19%) and Godrej Properties (0.26%).
The Power index was at 1,580.60, down by 33.43 points or by 2.07%. The major losers were Adani Power (3.56%), Reliance Infrastructure (2.74%), Bharat Heavy Electricals (2.65%), Crompton Greaves (1.58%) and C E S C (1.12%).
The Auto index was at 11,748.00, down by 202.09 points or by 1.69%. The major losers were Bajaj Auto (3.24%), Exide Industries (1.9%), Mahindra & Mahindra (1.79%), Hero Motocorp (1.05%) and Bharat Forge (0.68%).
Market Breadth
Market breadth was negative with 1,011 advances against 1,305 declines.
Value and Volume Toppers
Yes Bank topped the value chart on the BSE with a turnover of Rs. 1,030.44 million. It was followed by State Bank Of India (Rs. 772.18 million), Just Dial (Rs. 608.04 million) and Wipro (Rs. 427.92 million).
The volume chart was led by Cals Refineries with trades of over 5.52 million shares. It was followed by Sintex Industries (3.83 million), Spicejet (3.04 million) and Suzlon Energy (2.97 million).