Aries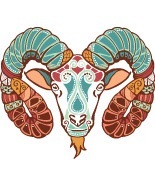 Today
You are likely to remain careful and watchful today, foretells Ganesha. And because you'll be invited to parties and other social events, your enthusiasm will remain buoyant. You will also strike the right balance between business and pleasure, says Ganesha.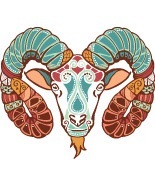 This Week
Material gains are in store for you in the coming days. This is favoured by Moon in the 5th House from your Sign. Creativity too shall get a boost. Plan some important activity on the first two days of the week. On Wednesday, an important and promising change in planetary position takes place. Ruler of your Sign Mars enters its Sign of exaltation, Capricorn. This could boost your confidence. However, on the flip side, you could get unpleasantly assertive. While it is good to express your views firmly, it is also wise to give a patient hearing to constructive suggestions from well wishers, counsels Ganesha. Businessmen and professionals will be comfortable and may be able to seal a lucrative deal. Your clout could increase in social circles. People around you may seek your opinion on important matters. Health shall not be a major trouble, this week. Nonetheless, do remain watchful of your diet and exercise routine.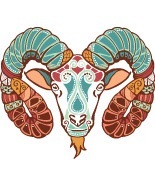 This Month
Completely engulfed in the pursuit of pleasure, as the months begins, you may be so immersed in enjoying life that you may neglect many of your regular and domestic responsibilities and concerns. Obviously, this will put you at the receiving end of a plenty of criticism from your family. Thankfully, by the end of the first week, you would be out of this bubble, and shall be more attentive to work as well as home life. Around the same time, businesspersons and professionals could be brimming with some new ideas to enhance prospects. However, Jupiter, the ruler of the 9th House of fortune will be in combust state and, hence, not strong enough to help you, all the way. This means that you will need to be prepared to work harder and longer - to achieve desired results, foresees Ganesha. Fortunately, by the second week, Jupiter comes out of its combust state. With intelligent and crafty Mercury and wise Jupiter transiting together, your gains during this phase could last long, says Ganesha. And, thanks to the ruler of your Sign Mars – exalted in the 10th House from your Sign now shall bring in happiness, passion and love in abundance. Married folks may be delighted, while those in love may settle for an auspicious date to wed. As the new fortnight commences, business could get a new push with steady rise in sales. Professionals may also have their hands full with various projects. All these are due to courtesy position of Saturn and Mars. In the fourth week, Sun in the eighth House is not measured as a happy proposition. You could feel down in the dumps about certain aspect of your life which are not in tandem with your dreams, feels Ganesha. Those doing business in partnership could be overwhelmed by the contribution of their partner in terms of money and contact with influential people. Your financial position may be comfortable by the month end. However, work will keep you busy all through the week and you may have little time to enjoy. Ganesha suggests that you improve your love bonds with your spouse. Planetary position indicates good health for you. <br/><br/>Important Dates<br/>3, 4, 6, 7, 8, 10, 15, 17, 18, 19, 20, 23, 24, 25, 26<br/><br/>Tips : Around 3rd week's beginning, Venus changes Signs to enter the optimistic Sagittarius, the 9th House from your Sign. This will be a favourable movement. Towards the end of the same week, Sun enters Scorpio, the 8th from your Sign. This rings danger bells for your intimate relations. In the 4th week, Mercury too enters Scorpio. Keep a tight leash on your speech. Aggression won't do you any good. Be careful while signing any important documents.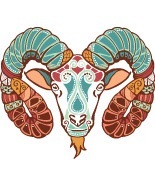 This Year
2016 ushers in with a blissful beginning with positive winds of change. Fringe benefits and overall returns on your investments are likely to keep the cheerful spring on this year. Desire of good life will see you stay focused, undeterred and motivated to move ahead to reach to your goals. However, Ganesha sounds a caution here: with the benevolent Jupiter turning Retrograde, situations may not lead to as win-win as you would want them to be. With life's ambitions come the challenges as middle of April will keep you busy handling the bottlenecks and chalk out a strategy to tackle obstacles. This could be owing to Mars – ruler of your Sign -- turning Retrograde. Challenges will take a pause around the second week of May with Jupiter turning Direct, giving you scope for some introspection. Your aspirational drive must go on, feels Ganesha. At the same time, since Jupiter remains in conjunction with malefic Rahu, great endeavours may not lead to great expectations or results as desired. Jupiter will be more of an influencer than a game changer owing to the Planetary position, which will keep you going and enable you score some brownie points.
---