Sensex flat at 20,000; Consumer Durables, Realty rise
By IRIS
Published: 30th January 2013 01:18 PM
Last Updated: 30th January 2013 01:18 PM
Indian equities continue to trade flat amid volatility ahead of F&O expiry tomorrow.Sentiment remains cautious after the Reserve Bank of India (RBI)reduced its key policy rate on Tuesday. Consumer durables and realty space continued to trade higher but FMCG and power witnessed a fall.At 11.56 a.m., the Sensex was trading up 11.31 points or 0.06% at 20,002.21 with 15 components gaining. Meanwhile, the Nifty was trading higher by 3.55 points or 0.06% at 6,053.45 with 30 components gaining.
The 30-share benchmark index, BSE Sensex opened with a gain of 23.90 points or 0.12% at 20,014.80, while the broad based NSE Nifty started with a rise of 15.10 points or 0.25%, at 6,065.
Sensex Movers
Reliance Industries contributed rise of 31 points in the Sensex. It was followed by I C I C I Bank (15.57 points), Hindustan Unilever (11.18 points), Oil & Natural Gas Corporation (6.16 points) and D L F (4.49 points).
However, I T C contributed fall of 27.53 points in the Sensex. It was followed by Housing Development Finance Corporation (10.84 points), Tata Motors (6.6 points), State Bank Of India (5.95 points) and Larsen & Toubro (4.28 points).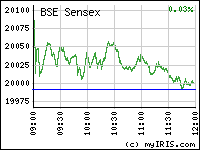 Major gainers in the 30-share index were Hindustan Unilever (1.86%), Cipla (1.84%), Reliance Industries (1.63%), Sterlite Industries (India) (1.55%), Tata Steel (1.27%), and Coal India (1.22%).
On the other hand, G A I L (India) (1.87%), I T C (1.42%), Tata Power Company (1.41%), NTPC (1.02%), Tata Motors (0.99%), and State Bank Of India (0.75%) were the biggest losers in the Sensex.
Mid & Small-cap Space
The BSE Midcap and Smallcap index rose 0.06% and 0.04% respectively.
Sectors in Limelight
The Consumer Durables index was at 7,580.99, up by 138.15 points or by 1.86%. The major gainers were Rajesh Exports (7.73%), Bajaj Electricals (2.62%), Titan Industries (2.04%), Videocon Industries (1.11%) and T T K Prestige (0.74%).
The Realty index was at 2,205.30, up by 27.53 points or by 1.26%. The major gainers were D L F (3.87%), Indiabulls Real Estate (2.32%), Parsvnath Developers (2.3%), Phoenix Mills (0.76%) and Godrej Properties (0.18%).
The Oil & Gas index was at 9,388.43, up by 88.96 points or by 0.96%. The major gainers were Indian Oil Corporation (1.56%), Bharat Petroleum Corporation (1.13%), Oil & Natural Gas Corporation (0.72%), Hindustan Petroleum Corporation (0.33%) and Castrol India (0.02%).
Market Breadth
Market breadth was negative with 1,127 advances against 1,294 declines.
Value and Volume Toppers
State Bank Of India topped the value chart on the BSE with a turnover of Rs. 531.10 million. It was followed by Reliance Industries (Rs. 516.71 million), Housing Development and Infrastructure (Rs. 324.30 million) and Crompton Greaves (Rs. 289.11 million).
The volume chart was led by Housing Development and Infrastructure with trades of over 4.19 million shares. It was followed by Cals Refineries (3.34 million), Crompton Greaves (2.68 million) and Suzlon Energy (2.52 million).
Disclaimer: We respect your thoughts and views! But we need to be judicious while moderating your comments. All the comments will be moderated by the NIE editorial. Abstain from posting comments that are obscene, defamatory or inflammatory, and do not indulge in personal attacks. Try to avoid outside hyperlinks inside the comment. Help us delete comments that do not follow these guidelines.
---
---