Ashoka Buildcon surges after receiving another investment in ACL
By IRIS
Published: 02nd April 2014 12:19 PM
Last Updated: 02nd April 2014 12:19 PM
Ashoka Buildcon, engaged in building and operating road and bridge projects in India, surged on Wednesday after the company's subsidiary Ashoka Concessions (ACL) further received 4th tranche of investment of Rs 1.33 billion, which will be utilized for equity investment into various under construction projects.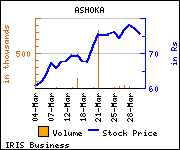 Ashoka Concessions has received total investment of Rs. 6.23 billion till date.Shares ofthe companyare trading at Rs 80.10, up Rs 4.7, or 6.23% at the Bombay Stock Exchange (BSE) on Wednesday at 10:50 a.m.The scrip has touched an intra-day high of Rs 81.90 and low of Rs 75. The total volume of shares traded at the BSE is 6,637.In the earlier session, the shares lost 1.95%, or Rs 1.5, at Rs 75.40. Currently, the stock is trading down 3.86% from its 52-week high of Rs 83.32 and above 93.95% over the 52-week low of Rs 41.30.
Disclaimer: We respect your thoughts and views! But we need to be judicious while moderating your comments. All the comments will be moderated by the NIE editorial. Abstain from posting comments that are obscene, defamatory or inflammatory, and do not indulge in personal attacks. Try to avoid outside hyperlinks inside the comment. Help us delete comments that do not follow these guidelines.
---
---
---