India Cements jumps after SC allows all teams to play in IPL
By IRIS
Published: 28th March 2014 01:19 PM
Last Updated: 28th March 2014 01:19 PM
India Cements' shares jumped on Friday after the media reports stated the Supreme Court (SC) has not imposed any ban on Chennai Super Kings team from playing into Indian Premier League 7.
India Cements, headed by N Srinivasan, is the owner of Chennai Super Kings.
Earlier media had speculated that the apex court may impose ban on Chennai Super Kings and Rajasthan Royals due to alleged links to betting scandal in the IPL matches.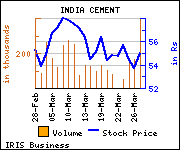 The SC has appointed former cricketer Sunil Gavaskar as interim president of the Board of Control for Cricket in India (BCCI) in place of N Srinivasan.
The SC has removed N Srinivasan so that authorities can conduct a fair probe into alleged betting scandal in IPL involving Srinivasan's son-in-law Gurunath Meiyappan. The court appointed committee has found Meiyappan guilty in betting scandal, as per media reports.
Last year, police have arrested three players of Rajasthan Royals in connection with alleged betting in the IPL matches, following which the matter has been moved to the apex court.
Shares of the company are trading at Rs 58.70, up Rs 3.7, or 6.73% at the Bombay Stock Exchange (BSE) on Friday at 12:07 p.m.The scrip has touched an intra-day high of Rs 59.25 and low of Rs 54.00. The total volume of shares traded at the BSE is 702,570.In the earlier session, the shares gained 2.42%, or Rs 1.3, at Rs 55.Currently, the stock is trading down 36.02% from its 52-week high of Rs 91.75 and above 36.51% over the 52-week low of Rs 43.00.
Disclaimer: We respect your thoughts and views! But we need to be judicious while moderating your comments. All the comments will be moderated by the NIE editorial. Abstain from posting comments that are obscene, defamatory or inflammatory, and do not indulge in personal attacks. Try to avoid outside hyperlinks inside the comment. Help us delete comments that do not follow these guidelines.
---
---
---